Overview
The elastic covering on the
sole
of the foot--the plantar fascia--runs the length of the foot and holds up the arch. When this shock-absorbing pad becomes inflamed, this is called plantar fasciitis, causing a dull ache along the length of the arch. The ache is due to over-stretching or partially tearing the arch pad. This happens most often to people with rigid, high arches. They feel the pain when they put weight on their foot or when pushing off for the next stride. Pain is particularly intense upon arising or after sitting for a long while. Plantar fasciitis is particularly common among middle-aged people who have been sedentary and who suddenly increase their level of physical activity. Runners are most susceptible, but almost any sport that keeps the athlete standing can lead to arch pain. Inappropriately fitting shoes or a weight gain of 10 to 20 pounds can also contribute to the condition.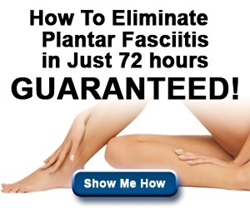 Causes
The cause of this condition is too much pressure exerted on the arches, and although common in athletes, the condition can happen because you went hiking or climbing, you were lifting heavy objects, or you simply walked too far too vigorously. Pregnancy places extra strain on the arches because of both the additional body weight and the effect of hormones on muscles and ligaments.
Symptoms
Typically, the sufferer of plantar fasciitis experiences pain upon rising after sleep, particularly the first step out of bed. Such pain is tightly localized at the
bony
landmark on the anterior medial tubercle of the calcaneus. In some cases, pain may prevent the athlete from walking in a normal heel-
toe
gait, causing an irregular walk as means of compensation. Less common areas of pain include the forefoot, Achilles tendon, or subtalar joint. After a brief period of walking, the pain usually subsides, but returns again either with vigorous activity or prolonged standing or walking. On
the field
, an altered gait or abnormal stride pattern, along with pain during running or jumping activities are tell-tale signs of plantar fasciitis and should be given prompt attention. Further indications of the injury include poor dorsiflexion (lifting the forefoot off the ground) due to a shortened gastroc complex, (muscles of the calf). Crouching in a full
squat
position with the
sole
of the foot
flat
on the ground can be used as a test, as pain will preclude it for the athlete suffering from plantar fasciitis, causing an elevation of the heel due to tension in the gastroc complex.
Diagnosis
After you describe your symptoms and discuss your concerns, your doctor will examine your foot. Your doctor will look for these signs. A high arch. An area of maximum tenderness on the bottom of your foot, just in front of your heel bone. Pain that gets worse when you
flex
your foot and the doctor pushes on the plantar fascia. The pain improves when you point your toes down. Limited "up" motion of your ankle.
Non Surgical Treatment
There is considerable debate about the best treatment option for plantar fasciitis. Some authors suggest all of the 'mainstream' methods of treatment don't actually help at all and can actually make the symptoms worse. However, on the whole, there are several of the most commonly cited treatment options for plantar fasciitis and these are generally accepted throughout the medical community. I would recommend giving these options a try if you haven't already. Rest. This is mainly applicable to the sports people as rest is possible treatment. (For those who cannot rest e.g. people who work on their feet - skip to the other treatment options below). Rest until it is not painful. This is made more difficult as people need to use their feet to perform daily activities but certainly stop sporting activities that are likely to be putting the fascia under excessive stress. Perform Self Micro-Massage (you can watch this video by clicking the link or scrolling further down the page as it's embedded on this lens!) This massage technique is used to break down fibrous tissue and also to stimulate blood flow to the area, both of which encourage healing and reduce pain. There is also a potentially soothing effect on nerve endings which will contribute to pain relief. Ice/Cold Therapy. Particularly useful after spending periods on your feet to reduce the inflammation. Wrap some ice or a bag of frozen peas in a towel and hold against the foot for up to 10 minutes. Repeat until symptoms have resolved. Heat Therapy. Heat therapy can be used (not after activity) to improve blood flow to the area to encourage healing. A heat pack of hot water bottle can be used. 10 minutes is ideal. Careful not to burn yourself. A good taping technique. By taping the foot in a certain way you can limit the movement in the foot and prevent the fascia from over-stretching and gives it a chance to rest and heal. Click on the link for more information on taping techniques. Weight Management. If you are over-weight, any weight you can loose will help to ease the burden on your sore feet and plantar fascia. Orthotic devices (often mis-spelled orthodic) are special insoles that can be used to limit over-pronation (discussed earlier) and control foot function. By preventing the arches flattening excessively, the plantar fascia is not over-stretched to the same extent and this should help with the symptoms and encourage healing. Stretching the calf muscles (again, click this link or scroll to the bottom of the page to watch the embedded video) can help to lengthen these muscles and the Achilles tendon - a risk factor for plantar fasciitis. Stretching of the plantar fascia itself is also encouraged, particularly before getting up the morning (night splints can be used for this effect) and after periods of rest. This can be achieved by placing a towel or band under the ball of the foot and gently pulling upwards until a stretch is felt. Hold for about 15-20 seconds then rest briefly. Repeat 2-3 times. As you can see there are many different treatment options available. Try incorporating some of these in to your daily routine and see what works for you. Regardless of the method the main aim is to prevent the fascia from over-stretching. Medical professionals such as a Podiatrist may decide to make custom orthotics or try ultra-sound therapy. It is likely that anti-inflammatory medications will also be recommended. If you have tried the treatment options and your symptoms persist I'd recommend going to see a medical professional for further advice.
Surgical Treatment
In adults, the most common cause of collapse is due to the posterior tibial tendon tear. In such cases, the tendon must be repaired and a second tendon may be added to the posterior tibial tendon for strength and added support. If the foot is found to be very
flat
, bone realignment procedures or possible bone fusion procedures may be used to realign the foot. If the calf or Achilles tendon are found to be tight, they may be lengthened to allow better motion at the ankle and less arch strain. The forefoot may also be in a poor position and stabilization of the arch may be necessary to increase forefoot contact to the ground.
Prevention
Warm up properly. This means not only stretching prior to a given athletic event, but a gradual rather than sudden increase in volume and intensity over the course of the training season. A frequent cause of plantar fasciitis is a sudden increase of activity without suitable preparation. Avoid activities that cause pain. Running on steep terrain, excessively hard or soft ground, etc can cause unnatural biomechanical strain to the foot, resulting in pain. This is generally a sign of stress leading to injury and should be curtailed or discontinued. Shoes, arch support. Athletic demands placed on the feet, particularly during running events, are extreme. Injury results when supportive structures in the foot have been taxed beyond their recovery capacity. Full support of the feet in well-fitting footwear reduces the likelihood of injury. Rest and rehabilitation. Probably the most important curative therapy for cases of plantar fasciitis is thorough rest. The injured athlete must be prepared to wait out the necessary healing phase, avoiding temptation to return prematurely to athletic activity.
Stretching Exercises
Massage therapy is a great way to loosen muscles and help improve mobility in in your feet. As many people with foot pain have discovered, tight muscles in your legs or back can lead to tense foot muscles. All those muscles are connected, so tension in your back can cause tension in your legs which can pull the tendons in your feet and cause stiffness and pain. Getting acupuncture or a professional full body massage are probably the best ways to deal with this, but there are also some simple tricks you can do at home to help keep muscles limber. These are great for loosening up and improving circulation, both before and after exercise. Place a tennis ball under the arch of your bare foot and roll it around, stretching the muscles in your foot and promoting blood flow. You can also roll the ball under your calves and upper legs to work out stiffness and knots. If you feel the tennis ball is too easy, try a lacrosse ball for deeper massaging. This is also demonstrated in the exercise video above. Use a foam roller, those big overpriced rolls of foam that are now available in every department and sporting goods store are fantastic for self-massage (why a roll of foam costs $30 is beyond us, but they do work wonders-our advice is to not waste money on the more expensive fancy grooved ones because even the simplest rollers work great). The exercises you can do with foam rollers seem to be endless, and there are literally hundreds of free videos online showing how to use them to massage every part of your body. Here's one we picked out that specifically targets foot and leg muscles related to arches and plantar fasciitis.